UEFI Boot of Asus P8Z68-VLE with Samsung XP941
Add Samsung option ROM 'SAMSUNG_M2_DXE' (1AC7EE15-1290-402C-80E9-F45A86E43F71) to Asus UEFI BIOS
Contents
The standard Asus BIOS for this motherboard doesn't support booting a Samsung XP941 NVMe SSD (MZHPU512HCGL-00000). Using the MMTool Aptio a bootable BIOS was generated by using the Samsung_M2_DXE from a Asrock BIOS. This steps are only appropriate for motherboards with AMI BIOS. At the time of writing the UBU (UEFI BIOS Updater) v1810 supports Aptio 4 BIOS - newer X99 chipset boards are not supported by this version.
This documentation is the minimum I had to do to get the BIOS booting. I managed not to brick the motherboard. I also opened a support ticket with ASUS but that has proven to be fruitless. This should serve as a good advertisement for the BIOS support in Asrock motherboards.
Steps:
Extract the SAMSUNG_M2_DXE file from a BIOS
Add the SAMSUNG_M2_DXE file to the Asus motherboard file
Flash the updated BIOS

Download the UBU rar from rghost.net and put the files into a directory. This procedure uses the 'mmtool.exe' executable. Reading some of the the following information on the UBU tools might be useful.
Once complete I was able to boot the machine directly into Windows x64 v7 (SP1).
Extract DXE file
I tried extracting the SAMSUNG_M2_DXE file (1AC7EE15-1290-402C-80E9-F45A86E43F71) from two BIOS. It was a different size in each case. The first was from an Asrock Z97 Extreme6 BIOS. The second one I tried from an Asrock 'Fatal1ty 990FX Killer' v1.30 BIOS worked so I used that (the BIOS was new and it's description included "Improve M.2 compatibility" and "support NVME"). No investigation into the differences was made.
Steps:
Use the 'Load Image' to load the BIOS

Go to the 'Extract' tab
Select the SAMSUNG_M2_DXE item
Select a module file
Press 'Extract'

Asrock 990FX Killer BIOS v1.30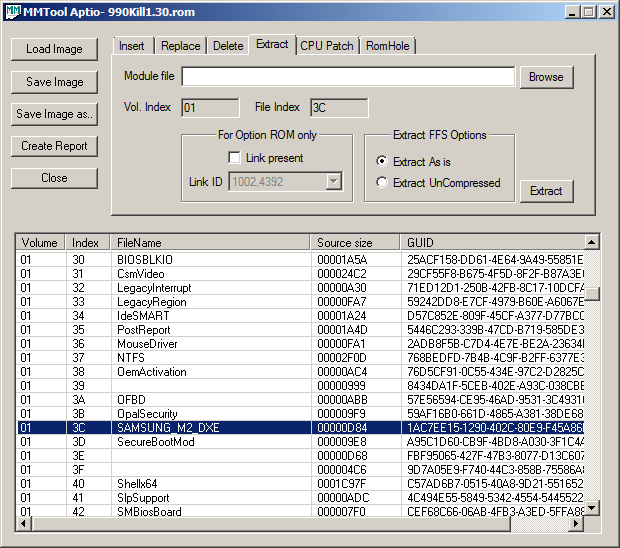 Asrock Z97 Extreme6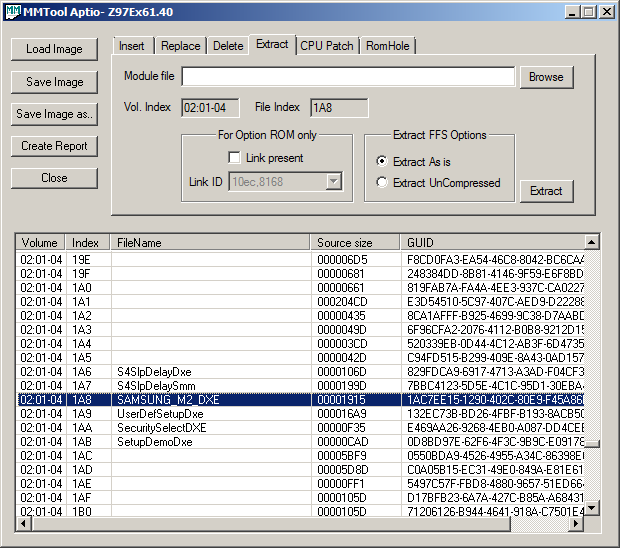 Insert DXE File
Insert the extracted DXE file into the latest version of the motherboard BIOS.
Steps:
Use the 'Load Image' to load the BIOS
Goto the 'Insert' tab
Browse to the SAMSUNG_M2_DXE file
Enter a 'Vol Index' (the module from the 990FX BIOS went in at '01')
Use the 'Save Image' to save the BIOS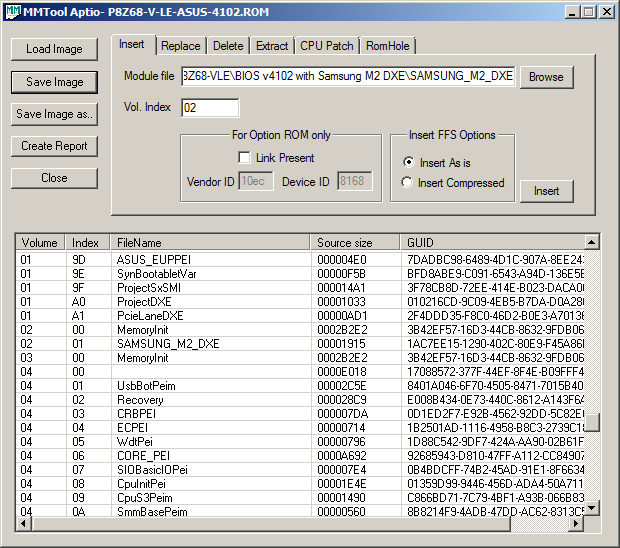 Flash BIOS

Steps:
Copy the updated BIOS file to a USB flash drive (extract it from the 7zip first)

Reboot in the BIOS
Use the EZ Flash updater to flash the BIOS
Restore BIOS settings
Links
Appendices
MMTool Report for modifed BIOS

+-----------------------------------------------------------------------------+
| MMTOOL  4.50.0023                                                           |
| Copyright (c)2010 American Megatrends, Inc.                                 |
+-----------------------------------------------------------------------------+
| Firmware Image Information                                                  |
+-----------------------------------------------------------------------------+
| Image Size : 800000                                                         |
+------+-------------------------------+--------------+-----------+-----------+
|  FV  |            FV TYPE            |   Location   |   Length  |    FFSs   |
+------+-------------------------------+--------------+-----------+-----------+
|  00  |          Non-FFS FV           |   00180000   |  010000   |    001    |
|  01  |          Non-FFS FV           |   001A0000   |  550000   |    163    |
|  02  |          Non-FFS FV           |   006F0000   |  040000   |    001    |
|  03  |          Non-FFS FV           |   00730000   |  040000   |    001    |
|  04  |          Non-FFS FV           |   00780000   |  040000   |    038    |
|  05  |          Boot Block FV        |   007C0000   |  040000   |    038    |
+------+-------------------------------+--------------+-----------+-----------+
| Nested Firmware Volume Information                                          |
+-----------------------------------------------------------------------------+
| Image contains no nested firmware                                           |
+------+-------------------------------+--------------+-----------+-----------+
| NCB Information                                                             |
+-----------------------------------------------------------------------------+
| NCB No : 0                         Location :  00000000   Length :  180000  |
| NCB No : 1                         Location :  00190000   Length :  010000  |
| NCB No : 2                         Location :  00770000   Length :  010000  |
+-----------------------------------------------------------------------------+
| Driver Information                                                          |
+-----------------------------------------------------------------------------+
| Firmware Volume : 00               Location :  00180000   Length :  010000  |
+---+---------------+------------------------------------+--------+------+----+
|NO |    FileName   |               GUID                 |Location| Size |Type|
+---+---------------+------------------------------------+--------+------+----+
|000|               |CEF5B9A3-476D-497F-9FDC-E98143E0422C|00180048|00FFB8|RAW |
+---+---------------+------------------------------------+--------+------+----+
| Bytes Free       : 000000 (  0 KB)    Bytes Used       : 010000 ( 64 KB)    |
+-----------------------------------------------------------------------------+
| Firmware Volume : 01               Location :  001A0000   Length :  550000  |
+---+---------------+------------------------------------+--------+------+----+
|NO |    FileName   |               GUID                 |Location| Size |Type|
+---+---------------+------------------------------------+--------+------+----+
|000|               |BC485CD2-8E96-45FB-BB0D-3BD3B5F82D89|001A0048|002018|RAW |
|001|               |17088572-377F-44EF-8F4E-B09FFF46A070|001A2078|002018|RAW |
|002|CpuDxe         |E03ABADF-E536-4E88-B3A0-B77F78EB34FE|001A4090|001985|DRVR|
|003|ASUSPOSTMessage|1A931FB8-C466-454A-B684-73ADA2CB050B|001A5A18|0003CE|PEIM|
|004|FileSystem     |93022F8C-1F09-47EF-BBB2-5814FF609DF5|001A5DE8|00464E|DRVR|
|005|               |DAC2B117-B5FB-4964-A312-0DCC77061B9B|001AA438|005BC9|FRFM|
|006|               |9221315B-30BB-46B5-813E-1B1BF4712BD3|001B0008|0002D9|FRFM|
|007|CORE_DXE       |5AE3F37E-4EAE-41AE-8240-35465B5E81EB|001B02E8|0218D9|DXEC|
|008|Runtime        |CBC59C4A-383A-41EB-A8EE-4498AEA567E4|001D1BC8|007968|DRVR|
|009|FtBbUpdate     |0DED86EE-6E79-4764-AA83-37A472F48123|001D9530|00090B|DRVR|
|010|ASUSXBBUpdate  |57D3EF84-C64B-4AB2-AD80-5F8A4C1A9547|001D9E40|000E78|DRVR|
|011|ReFlash        |70E1A818-0BE1-4449-BFD4-9EF68C7F02A8|001DACB8|00213A|DRVR|
|012|PciBus         |3C1DE39F-D207-408A-AACC-731CFB7F1DD7|001DCDF8|007030|DRVR|
|013|AmiBoardInfo   |9F3A0016-AE55-4288-829D-D22FD344C347|001E3E28|004CE8|DRVR|
|014|EBC            |13AC6DD0-73D0-11D4-B06B-00AA00BD6DE7|001E8B10|001B0A|DRVR|
|015|ECDXE          |E79A7050-8109-40D1-B3C0-2A3C74090702|001EA620|000DDE|DRVR|
|016|ECFWUpdate     |585C6240-A0FD-46C3-9B25-1E30648F95C8|001EB400|0017A5|DRVR|
|017|               |2CA21958-67A7-441A-A04A-7090992AAAB3|001ECBA8|0050A1|FRFM|
|018|SIOBasicIODxe  |D31EAA20-8436-4E34-9A06-C47C78E19F18|001F1C50|0006EE|DRVR|
|019|CpuInitDxe     |62D171CB-78CD-4480-8678-C6A2A797A8DE|001F2340|006749|DRVR|
|020|SmmRelocDxe    |7FED72EE-0170-4814-9878-A8FB1864DFAF|001F8A90|00072D|DRVR|
|021|SmmRelocPeim   |ABB74F50-FD2D-4072-A321-CAFC72977EFA|001F91C0|0005C5|PEIM|
|022|SmmBaseRuntime |5552575A-7E00-4D61-A3A4-F7547351B49E|001F9788|001A48|DRVR|
|023|SmmDisp        |9CC55D7D-FBFF-431C-BC14-334EAEA6052B|001FB1D0|002D7B|DRVR|
|024|SmmThunk       |8D3BE215-D6F6-4264-BEA6-28073FB13AEA|001FDF50|00073C|DRVR|
|025|CpuPolicyDxe   |15B9B6DA-00A9-4DE7-B8E8-ED7AFB88F16E|001FE690|000D37|DRVR|
|026|MicrocodeUpdate|F3331DE6-4A55-44E4-B767-7453F7A1A021|001FF3C8|0029F3|DRVR|
|027|CpuSmmSaveRes  |326E7ACE-2133-1BA2-800A-B9C00ACCB17D|00201DC0|000C03|DRVR|
|028|CpuSpSMI       |116E1ACF-2533-4CC2-820A-BBC10A2AB07C|002029C8|000A2E|DRVR|
|029|SBDXE          |B7D19491-E55A-470D-8508-85A5DFA41974|002033F8|003F1D|DRVR|
|030|SBRun          |E23F86E1-056E-4888-B685-CFCD67C179D4|00207318|0012CA|DRVR|
|031|               |22046D50-F390-498C-92E5-5BA4F8E7F8B6|002085E8|00020E|FRFM|
|032|SmmChildDispatc|753630C9-FAE5-47A9-BBBF-88D621CD7282|002087F8|001550|DRVR|
|033|SmmChildDispatc|E53734A3-E594-4C25-B1A2-081445650F7F|00209D48|001D1C|DRVR|
|034|AcpiModeEnable |750890A6-7ACF-4F4F-81BD-B400C2BEA95A|0020BA68|000FBD|DRVR|
|035|SleepSmi       |6298FE18-D5EF-42B7-BB0C-2953283F5704|0020CA28|0013C1|DRVR|
|036|SBSMI          |7B8DB049-C7C7-4D3B-809F-926DEE47CCA2|0020DDF0|00183C|DRVR|
|037|PchSpiWrap     |B716A6F8-F3A1-4B8E-8582-5A303F1CDD64|0020F630|0006D9|DRVR|
|038|WdtAppDxe      |CE366D33-B057-4C03-8561-CAF17738B66F|0020FD10|000789|DRVR|
|039|ActiveBios     |BFD59D42-FE0F-4251-B772-4B098A1AEC85|002104A0|000422|DRVR|
|040|IoTrap         |2374EDDF-F203-4FC0-A20E-61BAD73089D6|002108C8|000E2D|DRVR|
|041|IntelLegacyInte|C1C418F9-591D-461C-82A2-B9CD96DFEA86|002116F8|00022D|DRVR|
|042|PchInitDxe     |DE23ACEE-CF55-4FB6-AA77-984AB53DE823|00211928|005A26|DRVR|
|043|PchSmiDispatcher|B0D6ED53-B844-43F5-BD2F-61095264E77E|00217350|0024FF|DRVR|
|044|PchPcieSmm     |ACAEAA7A-C039-4424-88DA-F42212EA0E55|00219850|001562|DRVR|
|045|PchReset       |BB1FBD4F-2E30-4793-9BED-74F672BC8FFE|0021ADB8|000793|DRVR|
|046|PchS3Peim      |271DD6F2-54CB-45E6-8585-8C923C1AC706|0021B550|0015BC|PEIM|
|047|PchS3Support   |08F2C63B-08DE-4CCD-8670-ACFE644A1C48|0021CB10|000798|DRVR|
|048|SataController |BB65942B-521F-4EC3-BAF9-A92540CF60D2|0021D2A8|000E16|DRVR|
|049|PchSerialGpio  |FC1B7640-3466-4C06-B1CC-1C935394B5C2|0021E0C0|000757|DRVR|
|050|SmartTimer     |90CB75DB-71FC-489D-AACF-943477EC7212|0021E818|00044D|DRVR|
|051|PchSmbusDxe    |E052D8A6-224A-4C32-8D37-2E0AE162364D|0021EC68|000F25|DRVR|
|052|SmmControl     |A0BAD9F7-AB78-491B-B583-C52B7F84B9E0|0021FB90|00059F|DRVR|
|053|PchSpiSmm      |27F4917B-A707-4AAD-9676-26DF168CBF0D|00220130|0015D9|DRVR|
|054|PchSpiRuntime  |C194C6EA-B68C-4981-B64B-9BD271474B20|00221710|0016A9|DRVR|
|055|PchSmbusSmm    |59287178-59B2-49CA-BC63-532B12EA2C53|00222DC0|000BFC|DRVR|
|056|WdtDxe         |5AAB83E5-F027-4CA7-BFD0-16358CC9E453|002239C0|000640|DRVR|
|057|NBDXE          |E4ECD0B2-E277-4F2B-BECB-E4D75C9A812E|00224000|002618|DRVR|
|058|NBSMI          |D933DEDE-0260-4E76-A7D9-2F9F2440E5A5|00226618|0010F0|DRVR|
|059|MiscSubclassDxe|16271FCA-55D9-4A33-93FC-5A3EB128DE21|00227708|0007C8|DRVR|
|060|UpdateMemoryRec|24CCD374-3DF6-4181-86F6-E3C66920A145|00227ED0|00117B|DRVR|
|061|LegacyRegion2  |FE6F8ACD-55A6-4C6B-B448-64E659DE94B3|00229050|000552|DRVR|
|062|PciExpressDxe  |A89EC8E0-0BA1-40AA-A03E-ABDDA5295CDE|002295A8|001507|DRVR|
|063|PciHostBridge  |8D6756B9-E55E-4D6A-A3A5-5E4D72DDF772|0022AAB0|001648|DRVR|
|064|SmBiosMemory   |EDA39402-F375-4496-92D3-83B43CB8A76A|0022C0F8|00178A|DRVR|
|065|SmmAccess      |1323C7F8-DAD5-4126-A54B-7A05FBF41515|0022D888|0006C6|DRVR|
|066|               |27E569D5-0AFC-4D8F-8C90-783AC4A318AB|0022DF50|00009F|FRFM|
|067|SaInitDxe      |DE23ACEE-CF55-4FB6-AA77-984AB53DE811|0022DFF0|002F8E|DRVR|
|068|BdatAccessHandl|6DB9486F-6AF6-4090-984D-238482CE3EA4|00230F80|0004D3|DRVR|
|069|SaLateInitSmm  |2D1E361C-7B3F-4D15-8B1F-66E551FABDC7|00231458|001272|DRVR|
|070|ACPI           |16D0A23E-C09C-407D-A14A-AD058FDD0CA1|002326D0|0046E1|DRVR|
|071|               |26A2481E-4424-46A2-9943-CC4039EAD8F8|00236DB8|0017DC|    |
|072|S3Restore      |EFD652CC-0E99-40F0-96C0-E08C089070FC|00238598|0014FC|PEIM|
|073|EzFlashDxe     |FC63ED62-949D-4FB0-B754-D558A6367C56|00239A98|000A88|DRVR|
|074|EzFlash        |3470CCF0-6054-11DD-AD8B-0800200C9A66|0023A520|006FDE|APPN|
|075|               |3DCE5A33-0152-4B67-99DC-B8E0A25DDF59|00241500|0057EA|FRFM|
|076|AGI            |E79A7050-8109-40D1-B3C0-2A3C74C40204|00246CF0|0035B1|DRVR|
|077|AHCI           |8F5A2E02-538C-4D59-B920-C4786ACBC552|0024A2A8|0037C3|DRVR|
|078|AINT13         |67820532-7613-4DD3-9ED7-3D9BE3A7DA63|0024DA70|000F71|DRVR|
|079|AhciSmm        |BC3245BD-B982-4F55-9F79-056AD7E987C5|0024E9E8|001665|DRVR|
|080|AMITSE         |B1DA0ADF-4F77-4070-A88E-BFFE1C60529A|00250050|029555|DRVR|
|081|               |A59A0056-3341-44B5-9C9C-6D76F7673817|002795A8|0000A1|FRFM|
|082|               |294B1CEF-9BEB-42D5-9971-0C8963CDAF02|00279650|000AE6|FRFM|
|083|ASUSPOSTMessage|177B2C74-9674-45F4-AAEB-43F5506AE0FE|0027A138|00283B|DRVR|
|084|ACPIRAM        |37DA43A1-BB9A-4805-9B92-0BDE11191149|0027C978|0012DE|DRVR|
|085|EzFlash_Compati|F54D676F-ED6F-43CE-B4E5-A8CC580B0BC2|0027DC58|0006C9|DRVR|
|086|ASUSBackup     |98584C0B-49D6-4BAF-B542-ECEE2582409C|0027E328|002A56|DRVR|
|087|ASUSBackupSmm  |174CF46D-B167-4E6A-B1CD-D41E24EFA0F9|00280D80|000ADE|DRVR|
|088|BootPriority   |5F6A843E-D188-41A3-BA3C-A83D8997DC7F|00281860|000832|DRVR|
|089|ASUSFTMDXE     |3C35B99D-D4B7-4885-ABD9-2BEA4B9F3A01|00282098|000773|DRVR|
|090|ASUS_MEUpdate_D|68DB9E58-4B9C-4E60-8DA6-9A714DC3EDD3|00282810|0016EF|DRVR|
|091|               |5F8E4250-CF9E-402B-9921-796096982FEE|00283F00|0EC6AE|FRFM|
|092|MSOA           |A1902AB9-5394-45F2-857A-12824213EEFB|003705B0|001136|DRVR|
|093|AcpiPlatform   |8B5FBABD-F51F-4942-BF16-16AAA38AE52B|003716E8|001B57|DRVR|
|094|AcpiPlatformSmi|DFD8D5CC-5AED-4820-A2B6-5C55E4E640EF|00373240|000903|DRVR|
|095|PlatformInfo   |1314216C-CB8D-421C-B854-06231386E642|00373B48|000648|DRVR|
|096|SMBIOSUpdateData|B98999A4-E96F-475A-99FC-762126F50F5A|00374190|00060D|DRVR|
|097|CSMCORE        |A062CF1F-8473-4AA3-8793-600BC4FFE9A8|003747A0|0326E9|DRVR|
|098|               |A08276EC-A0FE-4E06-8670-385336C7D093|003A6E90|000409|FRFM|
|099|BIOSBLKIO      |25ACF158-DD61-4E64-9A49-55851E9A26C7|003A72A0|001947|DRVR|
|100|CsmVideo       |29CF55F8-B675-4F5D-8F2F-B87A3ECFD063|003A8BE8|002428|DRVR|
|101|CmosManagerSmm |6869C5B3-AC8D-4973-8B37-E354DBF34ADD|003AB010|0019DE|DRVR|
|102|DECIMALHANDLERD|9D63F04B-DF9C-4F21-811C-31348E67FBAC|003AC9F0|000FAC|DRVR|
|103|               |0E0DB566-F7A9-4DBF-9A74-FA5B1371A12F|003AD9A0|003118|FRFM|
|104|EzSetup        |210DCB72-BC14-4A19-A29B-F696EB7DE12B|003B0AB8|007FE5|DRVR|
|105|               |4B13CE01-3370-466E-A251-4D0AB6B5A9E8|003B8AA0|039AEA|FRFM|
|106|EzSetupPortingD|84DDA68C-CA5A-4C30-9261-DD6DE7E45A95|003F2590|0023B5|DRVR|
|107|ScreenCap      |9257B1B6-82DF-4B69-A83B-C16D671B9A9F|003F4948|001BD6|DRVR|
|108|FsIso9660      |D5D52FED-F8A6-49AC-97AC-7291A60405A6|003F6520|001246|DRVR|
|109|HWM_SetupDXE   |80023209-6386-4C1D-909B-63506A2146FF|003F7768|000954|DRVR|
|110|QFanDXE        |157C666C-7C74-4E4A-B639-7BBA21487CE1|003F80C0|000D08|DRVR|
|111|IdeSMART       |D57C852E-809F-45CF-A377-D77BC0CB78EE|003F8DC8|0018F0|DRVR|
|112|HeciDxe        |55E76644-78A5-4A82-A900-7126A5798892|003FA6B8|001C22|DRVR|
|113|HeciSmm        |921CD783-3E22-4579-A71F-00D74197FCC8|003FC2E0|000E97|DRVR|
|114|PlatformReset  |9A9A912B-5F53-4586-8820-704485A29D21|003FD178|000819|DRVR|
|115|MdesStatusCodeD|DF5CD25A-8E55-46BA-8CDA-BC7DB7BF9C64|003FD998|000757|DRVR|
|116|MeFwDowngrade  |5820EEB4-C135-4854-9D2A-AA9EFC4475E9|003FE0F0|00078C|DRVR|
|117|MePlatformPolicy|BA67550C-3628-4137-A53E-42660E081604|003FE880|0009FE|DRVR|
|118|IccOverclocking|CA5D7EB0-1B67-4B0B-964A-F2A861F0D640|003FF280|000AD1|DRVR|
|119|OCMR_DXE       |472A583E-70CF-465A-BB77-53ADFCDB5883|003FFD58|001D12|DRVR|
|120|MePciPlatform  |459C70C3-9344-4484-9F93-7822530D0D11|00401A70|00045B|DRVR|
|121|IccPlatform    |14257B56-BDA2-4FAF-8E4F-C885DF75583C|00401ED0|000B40|DRVR|
|122|IccOverClocking|5BBA83E5-F027-4CA7-BFD0-16358CC9E123|00402A10|00250A|DRVR|
|123|MouseDriver    |2ADB8F5B-C7D4-4E7E-BE2A-23634DF668A1|00404F20|0013FC|DRVR|
|124|Ntfs           |BE33A7B9-13CB-464E-BF5B-B97A9F5730CA|00406320|00172F|DRVR|
|125|OCMR_PEI       |C7542254-A8F7-40BA-9BB9-390D31977775|00407A50|00243A|PEIM|
|126|               |77840A38-8AB1-4D7A-9181-03B2F5B34C0B|00409EA8|001418|RAW |
|127|PEfirmwareupdat|97AF1D95-203C-42DE-8D6B-D13EB7E5A55A|0040B2C0|001243|DRVR|
|128|               |4ED407CE-411E-4ADE-8A93-8A34D79F4B52|0040C508|005418|RAW |
|129|PEbiosinterface|AEF82756-87F2-4CF6-BE80-E59055295AA1|00411920|003F9B|DRVR|
|130|PowerManagement|8C783970-F02A-4A4D-AF09-8797A51EEC8D|004158C0|002F80|DRVR|
|131|               |299141BB-211A-48A5-92C0-6F9A0A3A006E|00418840|000937|FRFM|
|132|AmiPpmPolicy   |1CE12314-AFBC-11F0-8A3E-AB44B8EE3120|00419178|000F05|DRVR|
|133|ResLoader      |5C0FB3B9-F7BB-467B-A4DC-89D7D5A58432|0041A080|0008D8|DRVR|
|134|SMBiosBoard    |CEF68C66-06AB-4FB3-A3ED-5FFA885B5725|0041A958|000C24|DRVR|
|135|SMBios64       |B13EDD38-684C-41ED-A305-D7B7E32497DF|0041B580|00277A|DRVR|
|136|SmbiosGetFlashD|DED7956D-7E20-4F20-91A1-190439B04D5B|0041DD00|000760|DRVR|
|137|               |DAF4BF89-CE71-4917-B522-C89D32FBC59F|0041E460|0004FF|FRFM|
|138|SmbiosDMIEdit  |E2A74738-8934-48F5-8412-99E948C8DC1B|0041E960|0017AE|DRVR|
|139|SMIFlash       |BC327DBD-B982-4F55-9F79-056AD7E987C5|00420110|002C90|DRVR|
|140|               |3D9D911C-510E-4834-95A7-7E3E1DEE6778|00422DA0|015E74|FRFM|
|141|USBRT          |04EAAAA1-29A1-11D7-8838-00500473D4EB|00438C18|008BF6|DRVR|
|142|UHCD           |580DD900-385D-11D7-883A-00500473D4EB|00441810|006042|DRVR|
|143|USBINT13       |4C006CD9-19BA-4617-8483-609194A1ACFC|00447858|000D00|DRVR|
|144|OEMDXE         |BFE205C9-5B17-4F8F-9375-89614AF8E199|00448558|0007C4|DRVR|
|145|Setup          |899407D7-99FE-43D8-9A21-79EC328CAC21|00448D20|0202E4|DRVR|
|146|               |7BB28B99-61BB-11D5-9A5D-0090273FC14D|00469008|00689B|FRFM|
|147|CRBDXE         |16271FCA-55D9-4A33-93FC-5A3EB128DEB6|0046F8A8|0004A5|DRVR|
|148|CRBSMI         |221F1D4F-034C-4BEA-B2BB-B7A9672B06D7|0046FD50|000936|DRVR|
|149|CspLibDxe      |CD84562C-6864-40A3-A081-C8D35E82B920|00470688|0000C5|DRVR|
|150|RemoveASFDXE   |077AFE00-4404-47E7-A4C7-B673580F8D5D|00470750|0005E8|DRVR|
|151|AsusPostErrPei |52715B77-04A5-487A-B980-CDC371B5BEC8|00470D38|00069A|PEIM|
|152|AsusPostErrDxe |54AB7A17-AD08-4F86-83C2-4CF398EBC0AD|004713D8|000EBE|DRVR|
|153|EpuHwModePei   |362C7275-4D8F-4607-8D8F-28893A8ACD60|00472298|0010FA|PEIM|
|154|EpuHwModeDxe   |21E34727-3881-4DEE-8020-D8908A980311|00473398|0009EB|DRVR|
|155|OnBrdDevDXE    |1DACE8EE-CD97-491E-8A0C-305D6437323C|00473D88|001BF2|DRVR|
|156|ASUS_EUPSxSMI  |D36DDD2D-1C66-4210-B77A-2FD9F920E51F|00475980|0009E6|DRVR|
|157|ASUS_EUPPEI    |7DADBC98-6489-4D1C-907A-8EE243AF805B|00476368|0004E0|PEIM|
|158|SynBootabletVar|BFD8ABE9-C091-6543-A94D-136E5BADD22D|00476848|000F5B|DRVR|
|159|ProjectSxSMI   |3F78CB8D-72EE-414E-B023-DACA003BDDF5|004777A8|0014A1|DRVR|
|160|ProjectDXE     |010216CD-9C09-4EB5-B7DA-D0A2865092D4|00478C50|001033|DRVR|
|161|PcieLaneDXE    |2F4DDD35-F8C0-46D2-B0E3-A701360D7499|00479C88|000AD1|DRVR|
|162|SAMSUNG_M2_DXE |1AC7EE15-1290-402C-80E9-F45A86E43F71|0047A760|000D84|DRVR|
+---+---------------+------------------------------------+--------+------+----+
| Bytes Free       : 274B48 (2514 KB)    Bytes Used       : 2DB4B8 (2925 KB)    |
+-----------------------------------------------------------------------------+
| Firmware Volume : 02               Location :  006F0000   Length :  040000  |
+---+---------------+------------------------------------+--------+------+----+
|NO |    FileName   |               GUID                 |Location| Size |Type|
+---+---------------+------------------------------------+--------+------+----+
|000|MemoryInit     |3B42EF57-16D3-44CB-8632-9FDB06B41451|006F0048|02B2E2|PEIM|
+---+---------------+------------------------------------+--------+------+----+
| Bytes Free       : 014CD0 ( 83 KB)    Bytes Used       : 02B330 (172 KB)    |
+-----------------------------------------------------------------------------+
| Firmware Volume : 03               Location :  00730000   Length :  040000  |
+---+---------------+------------------------------------+--------+------+----+
|NO |    FileName   |               GUID                 |Location| Size |Type|
+---+---------------+------------------------------------+--------+------+----+
|000|MemoryInit     |3B42EF57-16D3-44CB-8632-9FDB06B41451|00730048|02B2E2|PEIM|
+---+---------------+------------------------------------+--------+------+----+
| Bytes Free       : 014CD0 ( 83 KB)    Bytes Used       : 02B330 (172 KB)    |
+-----------------------------------------------------------------------------+
| Firmware Volume : 04               Location :  00780000   Length :  040000  |
+---+---------------+------------------------------------+--------+------+----+
|NO |    FileName   |               GUID                 |Location| Size |Type|
+---+---------------+------------------------------------+--------+------+----+
|000|               |17088572-377F-44EF-8F4E-B09FFF46A070|00780048|00E018|RAW |
|001|UsbBotPeim     |8401A046-6F70-4505-8471-7015B40355E3|0078E060|002C5E|PEIM|
|002|Recovery       |E008B434-0E73-440C-8612-A143F6A07BCB|00790CC0|0028C9|PEIM|
|003|CRBPEI         |0D1ED2F7-E92B-4562-92DD-5C82EC917EAE|00793590|0007DA|PEIM|
|004|ECPEI          |1B2501AD-1116-4958-B8C3-2739C188710A|00793D70|000714|PEIM|
|005|WdtPei         |1D88C542-9DF7-424A-AA90-02B61F286938|00794488|000796|PEIM|
|006|CORE_PEI       |92685943-D810-47FF-A112-CC8490776A1F|00794C20|00A692|PEIC|
|007|SIOBasicIOPei  |0B4BDCFF-74B2-45AD-91E1-8F6634C8A1DC|0079F2B8|0007E4|PEIM|
|008|CpuInitPei     |01359D99-9446-456D-ADA4-50A711C03ADA|0079FAA0|001E4E|PEIM|
|009|CpuS3Peim      |C866BD71-7C79-4BF1-A93B-066B830D8F9A|007A18F0|001490|PEIM|
|010|SmmBasePeim    |8B8214F9-4ADB-47DD-AC62-8313C537E9FA|007A2D80|000560|PEIM|
|011|CpuPolicyPei   |0AC2D35D-1C77-1033-A6F8-7CA55DF7D0AA|007A32E0|000B62|PEIM|
|012|CpuPeiBeforeMem|1555ACF3-BD07-4685-B668-A86945A4124D|007A3E48|000240|PEIM|
|013|CpuPei         |2BB5AFA9-FF33-417B-8497-CB773C2B93BF|007A4088|00162E|PEIM|
|014|SBPEI          |C1FBD624-27EA-40D1-AA48-94C3DC5C7E0D|007A56B8|003578|PEIM|
|015|AcpiPlatformPei|333BB2A3-4F20-4C8B-AC38-0672D74315F8|007A8C30|00039C|PEIM|
|016|SmBusPei       |9EA28D33-0175-4788-BEA8-6950516030A5|007A8FD0|0011CA|PEIM|
|017|WdtAppPei      |0F69F6D7-0E4B-43A6-BFC2-6871694369B0|007AA1A0|00042C|PEIM|
|018|PchInitPeim    |FD236AE7-0791-48C4-B29E-29BDEEE1A838|007AA5D0|003360|PEIM|
|019|PchResetPeim   |FF259F16-18D1-4298-8DD2-BD87FF2894A9|007AD930|000862|PEIM|
|020|PchSmbusArpDisa|643DF777-F312-42ED-81CC-1B1F57E18AD6|007AE198|000B80|PEIM|
|021|PchSpiPeim     |AA652CB9-2D52-4624-9FAE-D4E58B67CA46|007AED18|0015BE|PEIM|
|022|PchUsb         |6B4FDBD2-47E1-4A09-BA8E-8E041F208B95|007B02D8|000375|PEIM|
|023|NBPEI          |79AA6086-035A-4AD9-A89A-A6D5AA27F0E2|007B0650|002B38|PEIM|
|024|SmmAccessPeim  |6ECFCE51-5724-450C-A38A-58553E954422|007B3188|000884|PEIM|
|025|SaInitPeim     |FD236AE7-0791-48C4-B29E-29BDEEE1A811|007B3A10|004DC2|PEIM|
|026|               |9A1E0C57-9FA9-437B-84E6-8254FEF3ACE3|007B87D8|000246|RAW |
|027|HeciPei        |9CF30325-DC5C-4556-A8B0-74215C5F7FC4|007B8A20|000BF8|PEIM|
|028|PchMeUma       |8C376010-2400-4D7D-B47B-9D851DF3C9D1|007B9618|00092E|PEIM|
|029|MePeiPolicyInit|12C67BE1-AD2E-4F13-A95F-6EDC2C4392DE|007B9F48|000538|PEIM|
|030|               |FD44820B-F1AB-41C0-AE4E-0C55556EB9BD|007BA480|000228|FRFM|
|031|               |0DCA793A-EA96-42D8-BD7B-DC7F684E38C1|007BA6A8|00011C|FRFM|
|032|               |3FD1D3A2-99F7-420B-BC69-8BB1D492A332|007BA7C8|0000A4|FRFM|
|033|ASUSHeaderPEI  |4CC14F19-C626-4AB6-9DEA-CA6C01FD10CD|007BA870|00031C|PEIM|
|034|BBVideo        |E1AF9F5B-7CDE-4F98-91ED-5E67868282B8|007BAB90|003006|PEIM|
|035|               |532CED8F-1BA8-46CB-A437-C6C2E9058A5A|007BDB98|00030D|RAW |
|036|ProjectPEI     |29BE380A-FBC0-462B-A6C2-5C5A076CAFDE|007BDEA8|00039E|PEIM|
|037|               |1BA0062E-C779-4582-8566-336AE8F78F09|007BF480|000B80|SECC|
+---+---------------+------------------------------------+--------+------+----+
| Bytes Free       : 001238 (  4 KB)    Bytes Used       : 03EDC8 (251 KB)    |
+-----------------------------------------------------------------------------+
| Firmware Volume : 05               Location :  007C0000   Length :  040000  |
+---+---------------+------------------------------------+--------+------+----+
|NO |    FileName   |               GUID                 |Location| Size |Type|
+---+---------------+------------------------------------+--------+------+----+
|000|               |17088572-377F-44EF-8F4E-B09FFF46A070|007C0048|00E018|RAW |
|001|UsbBotPeim     |8401A046-6F70-4505-8471-7015B40355E3|007CE060|002C5E|PEIM|
|002|Recovery       |E008B434-0E73-440C-8612-A143F6A07BCB|007D0CC0|0028C9|PEIM|
|003|CRBPEI         |0D1ED2F7-E92B-4562-92DD-5C82EC917EAE|007D3590|0007DA|PEIM|
|004|ECPEI          |1B2501AD-1116-4958-B8C3-2739C188710A|007D3D70|000714|PEIM|
|005|WdtPei         |1D88C542-9DF7-424A-AA90-02B61F286938|007D4488|000796|PEIM|
|006|CORE_PEI       |92685943-D810-47FF-A112-CC8490776A1F|007D4C20|00A692|PEIC|
|007|SIOBasicIOPei  |0B4BDCFF-74B2-45AD-91E1-8F6634C8A1DC|007DF2B8|0007E4|PEIM|
|008|CpuInitPei     |01359D99-9446-456D-ADA4-50A711C03ADA|007DFAA0|001E4E|PEIM|
|009|CpuS3Peim      |C866BD71-7C79-4BF1-A93B-066B830D8F9A|007E18F0|001490|PEIM|
|010|SmmBasePeim    |8B8214F9-4ADB-47DD-AC62-8313C537E9FA|007E2D80|000560|PEIM|
|011|CpuPolicyPei   |0AC2D35D-1C77-1033-A6F8-7CA55DF7D0AA|007E32E0|000B62|PEIM|
|012|CpuPeiBeforeMem|1555ACF3-BD07-4685-B668-A86945A4124D|007E3E48|000240|PEIM|
|013|CpuPei         |2BB5AFA9-FF33-417B-8497-CB773C2B93BF|007E4088|00162E|PEIM|
|014|SBPEI          |C1FBD624-27EA-40D1-AA48-94C3DC5C7E0D|007E56B8|003578|PEIM|
|015|AcpiPlatformPei|333BB2A3-4F20-4C8B-AC38-0672D74315F8|007E8C30|00039C|PEIM|
|016|SmBusPei       |9EA28D33-0175-4788-BEA8-6950516030A5|007E8FD0|0011CA|PEIM|
|017|WdtAppPei      |0F69F6D7-0E4B-43A6-BFC2-6871694369B0|007EA1A0|00042C|PEIM|
|018|PchInitPeim    |FD236AE7-0791-48C4-B29E-29BDEEE1A838|007EA5D0|003360|PEIM|
|019|PchResetPeim   |FF259F16-18D1-4298-8DD2-BD87FF2894A9|007ED930|000862|PEIM|
|020|PchSmbusArpDisa|643DF777-F312-42ED-81CC-1B1F57E18AD6|007EE198|000B80|PEIM|
|021|PchSpiPeim     |AA652CB9-2D52-4624-9FAE-D4E58B67CA46|007EED18|0015BE|PEIM|
|022|PchUsb         |6B4FDBD2-47E1-4A09-BA8E-8E041F208B95|007F02D8|000375|PEIM|
|023|NBPEI          |79AA6086-035A-4AD9-A89A-A6D5AA27F0E2|007F0650|002B38|PEIM|
|024|SmmAccessPeim  |6ECFCE51-5724-450C-A38A-58553E954422|007F3188|000884|PEIM|
|025|SaInitPeim     |FD236AE7-0791-48C4-B29E-29BDEEE1A811|007F3A10|004DC2|PEIM|
|026|               |9A1E0C57-9FA9-437B-84E6-8254FEF3ACE3|007F87D8|000246|RAW |
|027|HeciPei        |9CF30325-DC5C-4556-A8B0-74215C5F7FC4|007F8A20|000BF8|PEIM|
|028|PchMeUma       |8C376010-2400-4D7D-B47B-9D851DF3C9D1|007F9618|00092E|PEIM|
|029|MePeiPolicyInit|12C67BE1-AD2E-4F13-A95F-6EDC2C4392DE|007F9F48|000538|PEIM|
|030|               |FD44820B-F1AB-41C0-AE4E-0C55556EB9BD|007FA480|000228|FRFM|
|031|               |0DCA793A-EA96-42D8-BD7B-DC7F684E38C1|007FA6A8|00011C|FRFM|
|032|               |3FD1D3A2-99F7-420B-BC69-8BB1D492A332|007FA7C8|0000A4|FRFM|
|033|ASUSHeaderPEI  |4CC14F19-C626-4AB6-9DEA-CA6C01FD10CD|007FA870|00031C|PEIM|
|034|BBVideo        |E1AF9F5B-7CDE-4F98-91ED-5E67868282B8|007FAB90|003006|PEIM|
|035|               |532CED8F-1BA8-46CB-A437-C6C2E9058A5A|007FDB98|00030D|RAW |
|036|ProjectPEI     |29BE380A-FBC0-462B-A6C2-5C5A076CAFDE|007FDEA8|00039E|PEIM|
|037|               |1BA0062E-C779-4582-8566-336AE8F78F09|007FF480|000B80|SECC|
+---+---------------+------------------------------------+--------+------+----+
| Bytes Free       : 001238 (  4 KB)    Bytes Used       : 03EDC8 (251 KB)    |
+-----------------------------------------------------------------------------+
| Total Bytes Free : 2A0958 (2690 KB)   Total Bytes Used : 55F6A8 (5501 KB)   |
+-----------------------------------------------------------------------------+
Document Actions