Sanyo Denki San Ace 40 9CRA0412P5M06
The Supermicro SC512F chassis came with two of fans in a vibration dampening cage.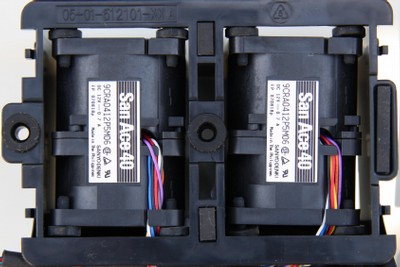 San Ace 40, 9CRA0412P5M06, 40mm x 56mm, DC 12volts, 0.7amps.
No data sheet was available at the time of writing (April 2009). The fans had the following PWM vs speed characteristic. The minimum speed was approximately 1900RPM, through to a maximum of 11600RPM. The second fan has similar characteristics, but had a top speed of 11700RPM.
Links
Appendices
Speed data
| | |
| --- | --- |
| Speed (RPM) | PWM (%) |
| 11637 | 100 |
| 11637 | 94.12 |
| 11440 | 88.24 |
| 10887 | 82.35 |
| 10546 | 76.47 |
| 10227 | 70.59 |
| 9926 | 64.71 |
| 9310 | 58.82 |
| 8766 | 52.94 |
| 8437 | 47.06 |
| 7848 | 41.18 |
| 7180 | 35.29 |
| 6459 | 29.41 |
| 6026 | 23.53 |
| 5294 | 17.65 |
| 4500 | 11.76 |
| 4440 | 10.98 |
| 4285 | 10.2 |
| 4218 | 9.41 |
| 4005 | 8.63 |
| 4017 | 7.84 |
| 3770 | 7.06 |
| 3739 | 6.27 |
| 3506 | 5.49 |
| 3515 | 4.71 |
| 3199 | 3.92 |
| 3139 | 3.14 |
| 2806 | 2.35 |
| 2800 | 1.57 |
| 1901 | 0.78 |
| 1859 | 0 |
Document Actions