Telecom Wholesale EUBA information
This page is a collection of information about the Telecom Wholesale EUBA product offering
Contents
The EUBA product was announced and released a long time ago, however information seems to be thin on the ground. From a CPE perspective, the EUBA product can be used in one of two modes:
legacy/compatibility mode with PPPoA

native
The legacy mode allows the CPE to be unchanged, and to continue to use PPPoA with a PVC of 0/100. The connection will be presented at the handoff to the ISP with a different VLAN ID.
The native mode uses:
ethernet bridging
PVC 0/110
VLAN 10
And can support VLANs, IPv4, IPv6 and QoS/CoS. At the time of writing I can find no 'works for me' stories.
Telecom Wholesale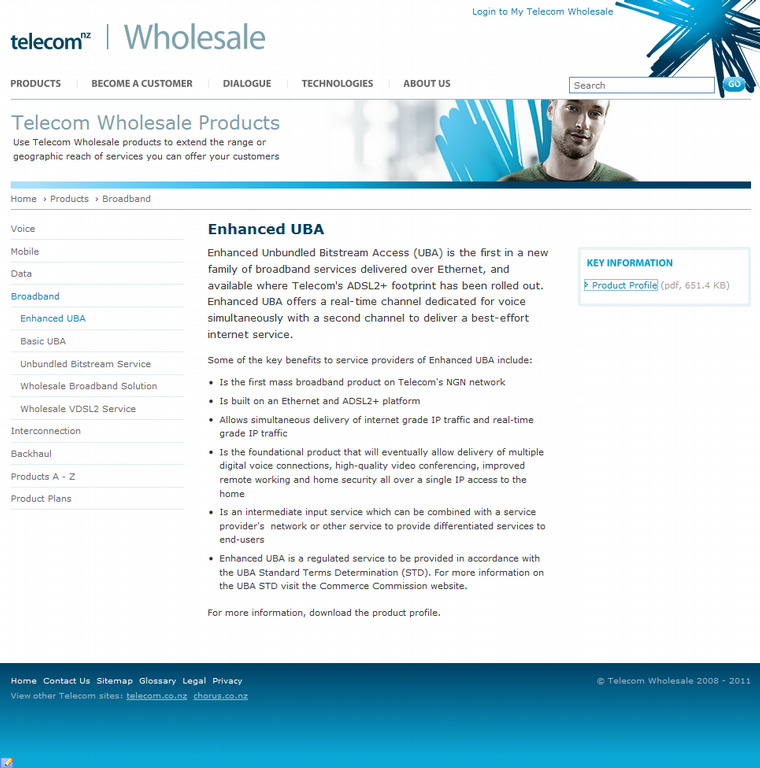 Xtreme Networks
The
ADSL page
provides the following information:
Option 2: Ethernet encapsulation or RFC 1483 encapsulation, VLAN tagging (802.1q) with a VLAN ID of 10 is required on the WAN interface with a VPI of 0 and a VCI of 110. With a VoIP quality connection use priority tagging (802.1p) of 0 for normal internet traffic and 6 for realtime traffic - VoIP/Video. Not available on the BisLITE connections.
Links
Telecom Wholesale
Cisco
Commerce Commission
RFCs
RFC-2684 - Multiprotocol Encapsulation over ATM Adaptation Layer
RFC-1483 - Multiprotocol Encapsulation over ATM Adaptation Layer

RFC-3315 - Dynamic Host Configuration Protocol for IPv6 (DHCPv6)

RFC-3633 - IPv6 Prefix Options for Dynamic Host Configuration Protocol (DHCP) version 6
Other
Document Actions