Routerboard 14 PCI to quad mini-PCI adapter
Information about the RouterBOARD 14, 9302-01-03, 24.02.2007
"MikroTik's RouterBOARD 14 (cache) MiniPCI to PCI adapter is an advanced four-slot adapter for 3.3v MiniPCI to PCI standard sockets"

The board has 4 mini-PCI slots, a PLX PCI6152 bridge (product brief, cache), and two AIC-1085 (cache) 3.3v regulators.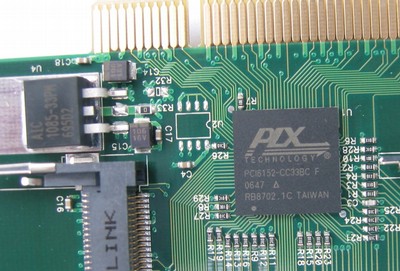 32-bit; 66MHz PCI-to-PCI Bridge, 15 x 15mm Tiny BGA or 32 x 32mm PQFP

The FastLane™ PCI 6152 PCI-to-PCI Bridge (HB1-SE) is designed for high-performance, low power applications. The PCI 6152 consists of three very low power 32-bit bridges. Ranging from 32-bit; 33MHz to 32-bit; 66MHz, the PCI 6152 Bridge supports up to four secondary PCI master devices, is PCI 2.2 compliant and CompactPCI Hot Swap friendly. In addition, it offers four GPIO pins and includes performance-optimized retry architecture. The PCI 6152 is offered in a 15 x 15mm 160-ball Tiny BGA or 32 x 32mm 160-pin PQFP. This device is available in leaded and lead-free packaging.
Each regulator can provide 3A at 3.3volts (i.e. approx 10watts). Each regulator is shared by two slots, so this allows a maximum of approximately 5watts @ 3.3volts per mini-PCI slot.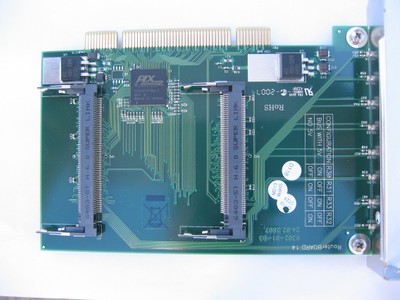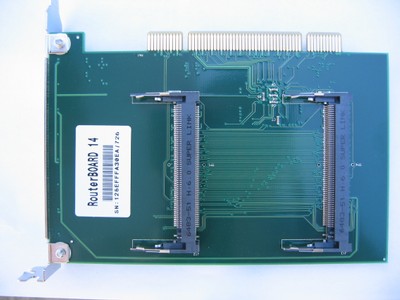 The PLX PCI6125 appears on the PCI bus as follows:
04:08.0 PCI bridge: Hint Corp HB6 Universal PCI-PCI bridge (non-transparent mode) (rev 15) (prog-if 00 [Normal decode])
        Control: I/O+ Mem+ BusMaster+ SpecCycle- MemWINV- VGASnoop- ParErr+ Stepping- SERR+ FastB2B- DisINTx-
        Status: Cap+ 66MHz- UDF- FastB2B+ ParErr- DEVSEL=medium >TAbort- <TAbort- <MAbort- >SERR- <PERR- INTx-
        Latency: 33, Cache Line Size: 32 bytes
        Bus: primary=04, secondary=05, subordinate=05, sec-latency=36
        Memory behind bridge: d0400000-d04fffff
        Secondary status: 66MHz- FastB2B+ ParErr- DEVSEL=medium >TAbort- <TAbort- <MAbort+ <SERR- <PERR-
        BridgeCtl: Parity- SERR- NoISA+ VGA- MAbort- >Reset- FastB2B-
                PriDiscTmr- SecDiscTmr- DiscTmrStat- DiscTmrSERREn-
        Capabilities: [80] Power Management version 2
                Flags: PMEClk- DSI- D1+ D2+ AuxCurrent=0mA PME(D0+,D1+,D2+,D3hot+,D3cold-)
                Status: D0 PME-Enable- DSel=0 DScale=0 PME-
                Bridge: PM- B3+
        Capabilities: [90] CompactPCI hot-swap <?>
        Capabilities: [a0] Vital Product Data <?>

Mechanical dimensions are available (cache)
Comments
The RouterBOARD 14 has three limitations I am aware of:
The maximum current provided by the onboard voltage regulators limits the use of the higher power wireless radio cards.
Some of the unused mini-PCI pins (e.g. pin 13) are grounded (which is the right thing to do), but this will cause some radios to be disabled
The maximum height of the mini-PCI card is approximately 51mm (for three of the four mini-PCI slots)

Links
Document Actions